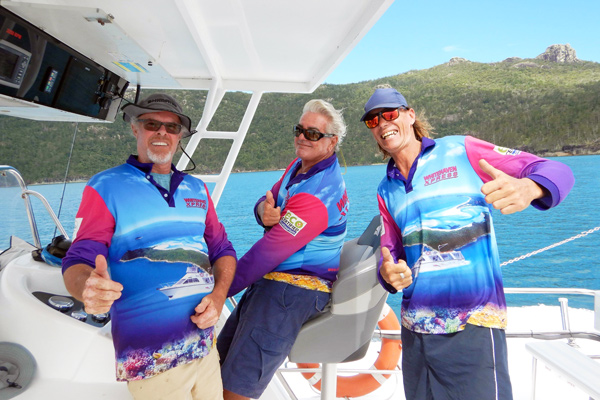 Captain Dan | Master 5 – MED3
Captain Dan has been a mariner since the age of 12.
He bought his first boat at the age of 12 and cruised up the Nepean River hunting bass and trout almost every weekend!
After moving to the Whitsundays with his Mum and Dad in 1989, Captain Dan gained his first job in watersports as a Skiboat driver for Lindeman Island.
He has also worked as a deckhand ("deckie") on various boats in the Whitsundays including the famous Gretel!
Dan has proudly Captained for Whitehaven Xpress since 1996.
Whitehaven Xpress has been owned by Jill & Terry McNally since 1989.
A true local Whitsunday business based in Airlie Beach, Whitehaven Xpress is one of the few pioneering companies in The Whitsundays that is still owner operated.
In 1989 Lindeman Island Resort commissioned the M.V. Lindeman Pacific, a 15M Fibreglass constructed mono-hull vessel. The concept was to provide a seaworthy vessel to operate the open ocean between Hamilton Island and Lindeman Island as well as provide the resort guests, day tours to the Great Barrier Reef and Whitehaven Beach.
The pilots strike in 1989 which was one of the most expensive and dramatic industrial disputes in Australia's history influenced the destiny for the new M.V. Lindeman Pacific. In 1990 Jill & Terry relocated to Shute Harbour and started a three island cruise. They later dreamed of enjoying a BBQ each day at Whitehaven Beach! The Whitehaven Beach BBQ dream still continues to this day. Terry's next great idea was to make a name change from Lindeman Pacific to Whitehaven Xpress. This was back in the 90's before Google was even invented, great foresight of the old man!
Fast forward 20 years Whitehaven Xpress Whitsundays is operated by Jill and Terry's son – Captain Dan. The family tradition of the Whitehaven Beach BBQ day tour with a unique Australian style of friendliness and professionalism has been maintained and continues to this day.